Every now and then I get worried about if my kids are eating well enough. Are they getting enough vitamins and eating from enough food groups? While I am in one of those worrying modes, I start cranking out green smoothies once per day. And last year, when our garden was producing lots of spinach and kale and chard, I was very encouraged, because my little boys, who rarely touch - much less eat- a vegetable, would beg for green smoothies and slurp them down and beg for more! I could give them all of their veggie servings in one glass. And it felt so great thinking about the wonderful things those vegetables were doing for their little, growing bodies:)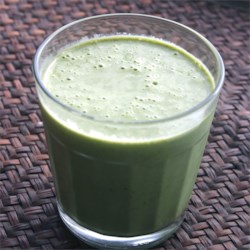 ....Not so much anymore this year.
Last night I made up a green smoothie for them. Abram looked at his anxiously before taking a taste after much encouragement. He started to shudder as the smoothie went down.
He finally managed to swallow and then he said, "Mom, this smoothie makes my head wiggle. I can't drink it."
Shawn and I started laughing really hard and then Abram said, "I'm serious. I'm not doing it on purpose. My head just starts wiggling!" We believed him!
I told him that he could choose to eat some carrots instead:)
This lack of success made me appreciate even more that Nolan was drinking ALL of his! I thanked him for keeping an open mind. He said, "Yeah. I can get myself to drink it because I just pretend that it's poly-juice potion. Poly-juice potion is really gross!!!"
Soon after this I headed to bed and found another addition of the girl's paper just waiting there on my bed for me to discover it. I had another great laugh over this section:
Something about that "you can contact him by calling his name" sent Shawn and I into peals of laughter.
Ivy - the girls will be sending you a paper just as soon as their mother gets around to it! They were very motivated by your interest:)